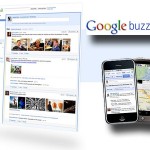 It is probably still too early to tell how big of a splash Google Buzz is going to make in regards to social media effectiveness. However, it is fair to say that it does create a new marketing channel for your business while expanding your brand's web footprint.
Time and time again we hear of people overwhelmed by everything that is "out there" on the web and we completely understand. If you feel this way, but you are still interested in leveraging Google Buzz for your business, you can choose to simply link Buzz to your existing accounts. As with many new social media tools, Google Buzz allows you to connect to six of your already existing and managed accounts. Accounts include (to date) Twitter, Google Chat, Picasa, YouTube, Flickr and Google Reader. If you feel that managing Google Buzz is too much to manage then simply activate your Buzz account and connect the services and tools you already manage. This will save you time but at the same time open you up to additional marketing potential for your business via Google Buzz.
Although it is hard to say what tools will be effective when they first launch, it will always remain important to find new channels of marketing your brand, services and product. Never hesitate to use what you already manage to take advantage of these new channels without any additional time invested.
Tags: buzz, google, Social Media, tip