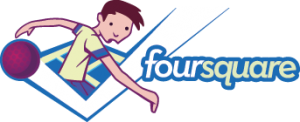 For those who haven't already heard, there has been some exciting news from Starbucks and Foursquare today. As quoted from The New York Times Blog, Bits…
Beginning Thursday, latte addicts who visit Starbucks outlets can get more than just a caffeine fix. They will also be rewarded on Foursquare with a barista badge.
For the location-based social network service, Foursquare, this is huge news but this can also prove to be an extremely successful strategy for Starbucks. Smaller brands than Starbucks have incorporated Foursquare into their marketing strategy before, especially in New York City where the service was born. However, with a large brand like Starbucks involved in what has become an addictive social network for many, it isn't unlikely that we will start seeing many large brands take advantage of Starbuck's innovative thinking.
On the other hand, this is also a great opportunity to incorporate your small business into the Foursquare craze. The decision by Foursquare founders to expand the service drastically beyond New York City has put even small towns into the Foursquare mix. If you own a retail location, a restaurant or even a dentist's office, Foursquare is worth exploring and incorporating into your marketing strategy.
Take a restaurant for example. Can a restaurant owner afford to offer 10% off a check on Tuesdays while in return have patrons notify all of their friends when they visit that restaurant while at the same time raving about the great service and superb food on Foursquare? The answer needs to be yes!
Even in the social media driven world we live in, we continue to see businesses fail to take advantage of great marketing opportunities through services like Twitter and Facebook. We understand there are a lot of services on the web and that it can become overwhelming but what works just works and Twitter, Facebook and now Foursquare are dead winners in our book!
The best part about Foursquare is that your restaurant, store, etc. is probably already on Foursquare as added by your own patrons. All you have to do now is put a sign in your window that offers promotions to Foursquare users. Give Foursquare a peak and let us know what you think.
Tags: foursquare, marketing, Social Media, starbucks